Cardiac rehabilitation is tailored to your specific heart problem. It involves an individualized and personalized treatment program, including evaluation and instruction on physical activity, nutrition, stress management and other health-related areas. If you have any questions or would like more information about how to participate in the program, please call 260-724-2145, ext. 11036.
Cardiac rehabilitation is generally covered by most health insurance companies, but check your plan to determine copays or other requirements. If you have experienced any of the following conditions, you may be eligible to participate:
Heart attack
Angina
Cardiac surgery, such as coronary bypass or valve surgery
Coronary artery angioplasty or stents
Heart failure
Heart transplantation
Cardiac rehabilitation has many benefits for patients, including:
Living longer and decreasing your chance for another heart attack
Controlling heart disease symptoms such as chest pain or shortness of breath
Stopping or reversing damage to the blood vessels in your heart
Lessening the physical and emotional effects of heart disease
Improving your stamina and strength and getting you back to your usual activities, including work, hobbies and regular exercise
Improving your confidence and well-being
Cardiac rehabilitation involves clinically trained exercise physiologists, including AACVPR-certified cardiac rehab professionals with years of experience in the field. They assess your personal risk factors for heart and blood vessel disease then design a personalized exercise plan that works for you to strengthen your body and reduce stress. They also perform a psychological/stress assessment and provide counseling to alleviate concerns and improve your mental health.
In addition, our professionals provide education to support you in making healthy lifestyle changes, such as maintaining a healthy weight, eating heart-healthy foods, avoiding tobacco and environmental smoke and better controlling blood pressure, cholesterol and diabetes. You'll also have an opportunity to meet and share stories with other patients like you, which can be an equally valuable experience.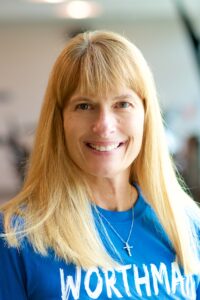 Diana Macklin, MS EP, CCRP
Cardiopulmonary Rehabilitation Coordinator
Diana Macklin has been the Coordinator of Cardiopulmonary Rehab here at Adams since 2006. She holds a Master of Science degree in Exercise Physiology from Ball State University. She is a Certified Cardiac Rehabilitation Professional (CCRP) through The American Association of Cardiovascular and Pulmonary Rehabilitation. In her 25 + years of experience as a clinic exercise physiologist she has provided compassionate care to hundreds of cardiac and pulmonary patients.