Pulmonary rehabilitation is a service designed to improve the quality of life of patients who are experiencing lung problems such as:
Chronic Obstructive Pulmonary Disease (COPD)
Emphysema
Chronic bronchitis
Bronchiectasis
Sarcoidosis
Pulmonary hypertension
Pulmonary fibrosis
Interstitial lung disease
Lung cancer and lung cancer surgery
Lung volume reduction surgery before and after lung transplantation
Services include exercise classes and education about your lung disease or condition. Pulmonary rehab may help you to participate in activities with less shortness of breath and teaches you how to live better with your lung condition. They are generally covered by most health insurance companies. Please check your plan to determine if your policy covers pulmonary rehabilitation. If you have any questions or would like more information about how to participate in the program, please call 260-724-2145, ext. 11036.
Services
Care provided by clinically trained exercise physiologists and registered respiratory therapists
Education classes that focus on COPD as well as other chronic lung diseases designed to provide you with information about:

Medications, including drug action, side effects, use of an inhaler and self-care techniques
Oxygen therapy
Diet, nutrition and weight management
Breathing retraining
Importance of exercise
Strategies for managing breathing problems
Harm caused by tobacco and environmental smoke
Symptom assessment and knowledge about when to seek medical treatment
A personalized exercise plan that works for you
Psychological/stress assessment and counseling
Opportunity to meet and share stories with other patients like you
Improved communication with your doctor and other health care providers about treatment options for your pulmonary disease or condition
Although pulmonary rehabilitation can't cure your lung disease, it can be of great benefit. You may notice improved breathing and fewer breathing problems. Other benefits include:
Reduced breathing difficulties or more controlled breathing
Decrease in other symptoms associated with your lung disease or condition
Improved ability to function better in your daily life
Increased ability to be more physically active
Better management of anxiety and depression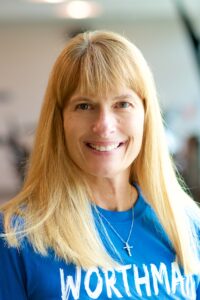 Diana Macklin, MS EP, CCRP
Cardiopulmonary Rehabilitation Coordinator
Diana Macklin has been the Coordinator of Cardiopulmonary Rehab here at Adams since 2006. She holds a Master of Science degree in Exercise Physiology from Ball State University. She is a Certified Cardiac Rehabilitation Professional (CCRP) through The American Association of Cardiovascular and Pulmonary Rehabilitation. In her 25 + years of experience as a clinic exercise physiologist she has provided compassionate care to hundreds of cardiac and pulmonary patients.