From our pediatric therapists to our sports medicine specialists, we provide therapy in our newly expanded space at Adams Memorial Hospital and at our Berne and Monroeville locations. We treat patients with varying orthopedic and neurological conditions, including swallowing disorders, autism, Down syndrome, cerebral palsy, speech/language disorders and feeding disorders. Adams Health Network Rehab also provides adult neurologic and orthopedic treatments and industrial rehab.
One-on-One Therapy
Appointments within 24-48 hours of referral
Direct-access appointments
Convenient appointment times (early and evening appointments available)
Free 30-minute consultation
To schedule an appointment, call 260-724-2145, ext. 11031.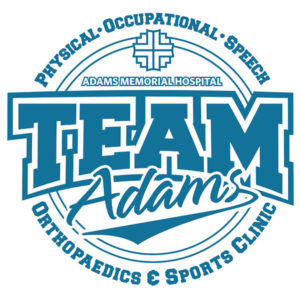 Three Convenient Locations:
All Your Ortho-Related Needs, Under One Roof
New Adams Rehabilitation, Orthopedic, Pain and Sports Medicine Expansion
Adams Memorial Hospital has recently opened an expanded Rehabilitation Department including new space for rehabilitation (physical therapy, occupational therapy and speech therapy) and a new Orthopedic, Pain and Sports Medicine Clinic. Worthman Fitness Center and Cardiac Rehab also received a facelift with updated exercise equipment and free weights. Patients requiring assistance after their medical appointments conveniently walk by the fitness center and therapy scheduling desk as they exit.
The new Rehabilitation Department contains a 4,600-square-foot hub for orthopedics, sports medicine, rehab and pain management. In the hub is a new HydroWorx 350 for aquatic therapy and athletic simulating turf. Director of Rehabilitation Angie Vogel, PT, calls the new space a "one-stop shop" for rehab services, streamlining care and improving the overall patient experience.
Three physicians have offices in the new space: David Coats, M.D., orthopedic surgeon; Robert Kinne, M.D., interventional spine, pain management and sports medicine specialist; and Scott Colclasure, M.D., anesthesiologist and pain management specialist. Their proximity promotes a team approach among the providers, therapists and athletic trainers, enhancing their collaboration and communications.
Inpatient Services at Adams Memorial Hospital
Acute care
Swing Bed Program
Outpatient Rehabilitation Services
PT, OT, speech
One-on-one therapy
Free 30-minute consultations
Three convenient locations at Adams Memorial Hospital, Berne and Monroeville
Senior Living
Adams' rehab team provides PT, OT and speech therapy at the following locations:
Adams Woodcrest Independent Living, Assisted Living and Nursing Care (restorative and skilled)
Adams Heritage in Monroeville (restorative and skilled)
Home health visits
Media/Newsletter