Adams Radiology brings together the best combination of qualified, caring medical professionals and state-of-the-art technology to assist with your treatment. We are accredited by the American College of Radiology, embracing its high standards through accreditation programs and guidelines for quality imaging, education and patient advocacy. The Federal Drug Administration (FDA) accredits our mammography facility.
The physicians of Summit Radiology are committed to providing patients with the highest quality diagnostic imaging. Our radiologists have additional fellowship training in interventional radiology, mammography, neuroradiology, nuclear medicine and magnetic resonance imaging. Summit Radiology provides coverage 24/7.
Location
The Radiology Department is located on the first floor of the hospital, located at 1100 Mercer Avenue. We are staffed 24 hours a day by skilled technologists who are registered by the American Registry of Radiologic Technologists and certified by the state of Indiana.
If you need to contact the radiology front desk, please call 260-724-2145, ext. 11103. For scheduling needs, to request copies of film or to speak to a member of the radiology staff, please call 260-724-2145, ext. 11091.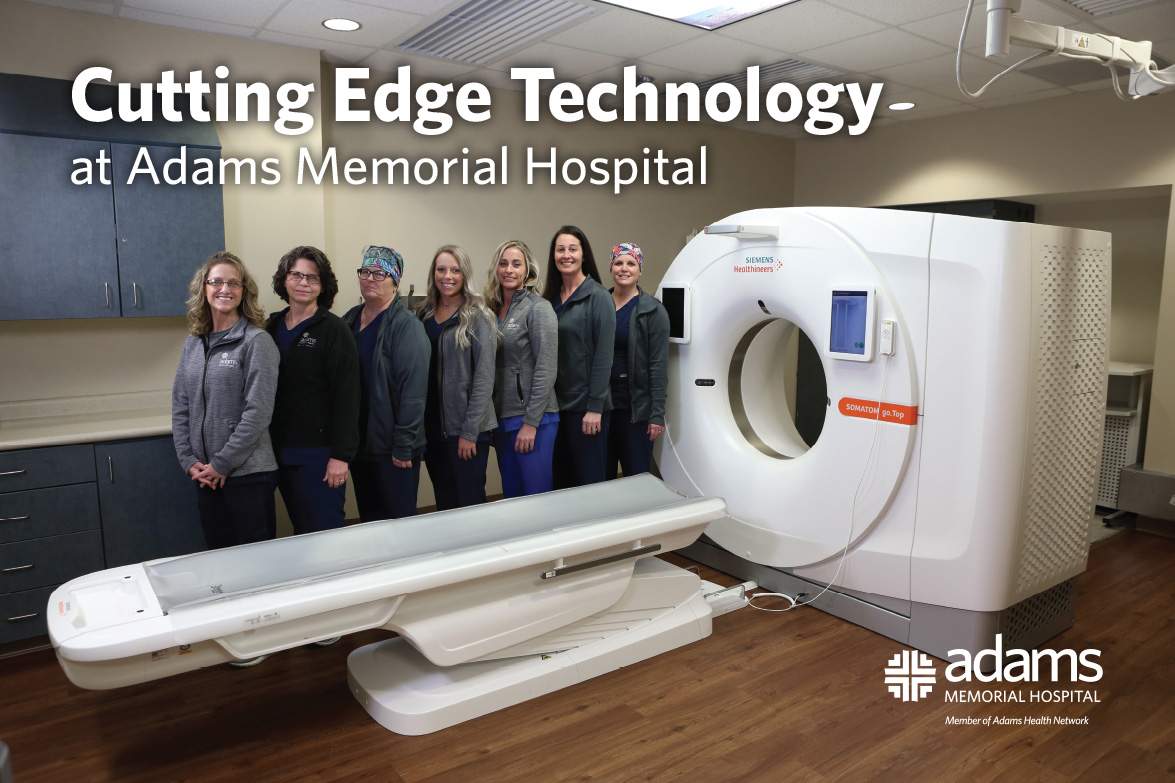 Information
Our department has state-of-the-art digital radiology equipment capable of immediate acquisition of all captured images, meaning the images are immediately available for viewing on a computer screen. The equipment produces a digital image in seven seconds, eliminating the need for X-ray film. Your physician can immediately access your images through our specialized Radiology Web Browser. If you need to take images to an outside provider, we can provide these to you on film or CD. By providing our patients with a fully digital department, we have significantly improved our customer service. Because of new efficiencies, we have decreased wait times, improved workflow and, more importantly, now have more time to directly address your needs.
Each imaging modality offered at Adams Memorial Hospital is state-of-the-art. You will find in our department a high-field MRI scanner, a rapid speed multi-slice CT scanner, an advanced ultrasound unit, a comprehensive nuclear medicine camera, a Dexa digital fluoroscopy unit to measure bone density and the most modern high-tech digital mammography machine in the market.
SOMATOM® go.Top: The Most Advanced CT Imaging Possible
Adams Memorial Hospital recently installed the SOMATOM® go.Top, a new tablet-based CT scanner from Siemens Healthineers. The advanced scanner enables the hospital to perform routine and advanced CT procedures. It also enhances diagnostic accuracy by providing additional diagnostic information to patients and their physicians. From pediatric to adult patients, the SOMATOM go.Top CT system delivers a gentle patient experience, high-quality images and low-dose radiation, the perfect balance for patient comfort and clinical confidence.
Technologists operate the CT system with a touch-screen tablet and remote control, keeping patients close during exam preparation. This can improve the patient experience, particularly for children and patients who have mobility challenges and need additional support. In addition, the SOMATOM go.Top features automated technology that can take the guesswork out of selecting the optimal radiation dose for diverse patient populations. It's also equipped with Siemens' latest exclusive technologies for optimizing radiation dose, such as Tin Filter Technology. Together, these can reduce unnecessary radiation for a wide range of routine procedures.
"Patients are our number one priority," says Liz Fisher, director of Clinical Services at Adams Memorial Hospital. "We carefully considered which CT system would provide the best possible experience for our patients and also provide our physicians with the information they need to deliver the best possible care."
With patient-centric technology and workflows that optimally adapt to each patient, SOMATOM go.Top delivers consistent, reliable results in all aspects of hospital imaging – including in the most advanced fields of cardiac and coronary artery imaging, low-dose pediatric scanning, CT guided minimally invasive interventional procedures and routine-ready dual energy.
Mammograms
A woman's chance of developing breast cancer is one in eight across her lifetime. Early detection of breast cancer with 3D mammography and/or breast ultrasound means a patient can start their treatment earlier. The Genius 3D Mammography allows doctors to examine breast tissue layer by layer, allowing fine details to be more visible. At Adams, we also provide prevention and education to provide the best possible care.
Please call 260-724-2145, ext. 11047, to schedule.
Bone Density Testing
During a bone density exam with DXA, patients recline comfortably on a padded table while the DXA system scans two or more areas, usually the fracture prone hip and spine. Unlike typical X-ray machines, radiation exposure during bone density exams is extremely low. The entire process takes only minutes to complete, and it involves no injections or invasive procedures.
Please call 260-724-2145, ext. 11047, to schedule.