Finding the right help in a time of need can be difficult and confusing. Adams Medical Group Behavioral Health aims to make that search comfortable and easy by offering a comprehensive range of services as part of a coordinated health program. All our behavioral health team's services follow the patient privacy policies of Adams Memorial Hospital. We developed our services with your privacy in mind and provide professional care with respect to your needs and feelings.
Our behavioral health services are accredited by HFAP and licensed by Indiana's Division of Mental Health. Our behavioral health department is Medicare/Medicaid-certified and a preferred provider for many managed care and other insurance plans.
Need Support? Get Help Now.
Talking with someone about your thoughts and feelings can save your life.
No matter what problems you're dealing with, whether or not you're thinking about suicide, if you need someone to lean on for emotional support, please call or text the 988 Suicide & Crisis Lifeline. 988 offers a direct connection to compassionate, accessible care and support for anyone experiencing mental health-related distress, whether that is thoughts of suicide, mental health or substance use crisis, or any other kind of emotional distress. If you or someone you know is experiencing a mental health-related or substance use crisis, hope and help is available. Please call or text 988 to reach the Suicide & Crisis Lifeline and speak with a trained crisis specialist 24/7.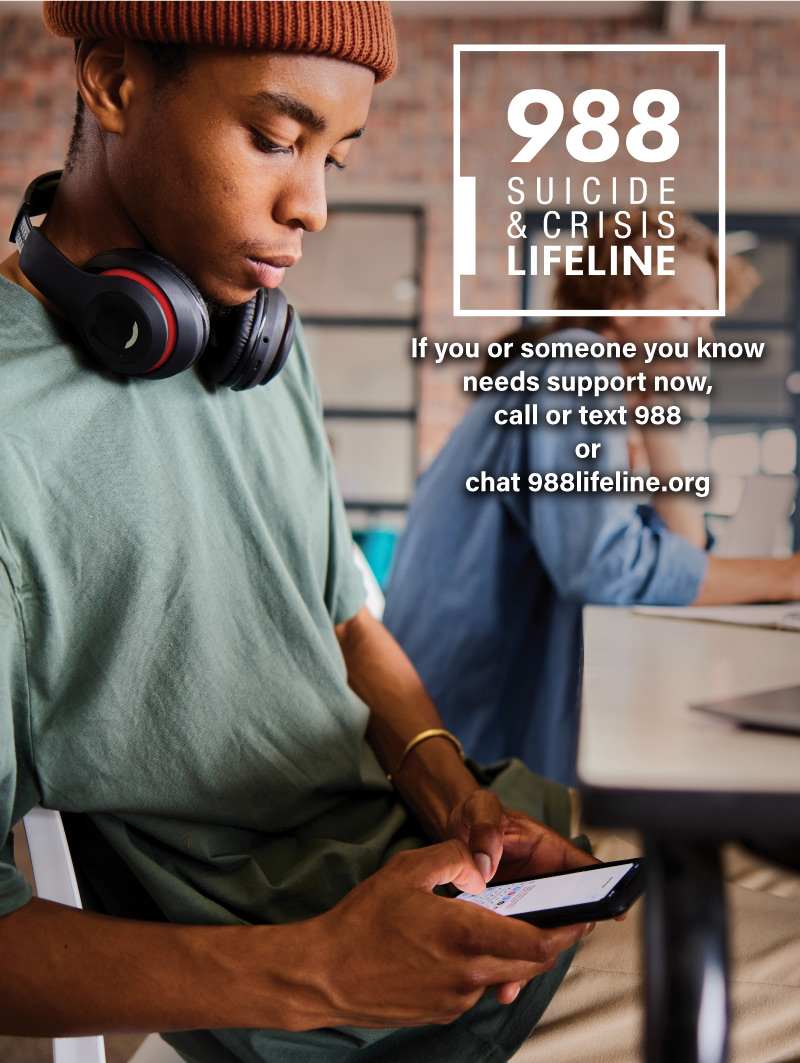 About Our Programming
Adams Medical Group Behavioral Health offers a range of mental health and addiction services to the community, including individual, family and couples therapy for individuals ages five and older. Our team consists of licensed providers with graduate degrees, a case manager, administrative staff, psychiatric nurse practitioners and a registered nurse. We offer therapy by licensed therapists, crisis intervention, referral information and medication services.
Behavioral health works with individuals to address their specific needs. A few benefits of engaging in services include enhancing an individual's ability to cope with anxiety, depression, substance use disorders, life changes, stress and illness. Individuals can also improve their ability to make productive life choices. Individuals work with their providers to choose the frequency of appointments and ensure a treatment plan that meets their needs. Convenient hours allow freedom and flexibility to meet difficult schedules. Therapy sessions are approximately 45 minutes in length.
We work closely and provide treatment within different programs in the community such as school systems and criminal justice settings. We are also involved in ancillary services that impact mental health, such as the Diabetes Support Group and Education Team as well as the Alzheimer's support group. At challenging times, we've led grief support groups for the community. We are passionate about helping our community and look for opportunities to make a difference.
Treatments We Provide
Cognitive Behavioral Therapy (CBT) is a short-term form of behavioral treatment. It helps people problem solve. CBT also reveals the relationship between beliefs, thoughts and feelings and the behaviors that follow. Through CBT, people learn that their perceptions directly influence how they respond to specific situations. In other words, a person's thought process informs their behaviors and actions.
Play therapy can help individuals communicate, explore repressed thoughts and emotions, address unresolved trauma and experience personal growth. Play therapy is widely viewed as an important, effective, and developmentally appropriate mental health treatment.
Trauma-focused cognitive behavioral therapy (TF-CBT) is an evidence-based treatment model designed to assist children, adolescents and their families with overcoming the negative effects of a traumatic experience.
Rapid Resolution Therapy (RRT) is a short-term, gentle, respectful, holistic and compassionate treatment that works without subjecting individuals to needless pain and possible re-traumatization; because of this, sessions don't tend to be as emotionally draining. RRT can be applied to treat a wide range of struggles. RRT is a trauma-informed approach that targets the limbic brain, where emotional responses are activated. Unlike traditional cognitive therapy, which only targets the cognitive functioning of the brain, RRT instead addresses the emotional brain and limbic system. Individuals can reprocess and reorganize traumatic events or overwhelming interfering emotions without having to fully relive the experience. RRT uses concepts from evidence-based treatment. Though not traditional therapy, RRT is effective for many individuals.
Motivational interviewing is a collaborative, goal-oriented style of communication with particular attention to the language of change. It is designed to strengthen personal motivation and commitment to a specific goal by eliciting and exploring the person's own reasons for change within an atmosphere of acceptance and compassion.
Referral and Linkage
Adams Medical Group Behavioral Health offers free confidential assessments during regular business hours. If you or a loved one could benefit from our services, please call 260-728-3906. Adams Medical Group Behavioral Health accepts physician referrals, though they are not required. By calling or scheduling a consultation, we can begin to assess your needs and identify the best ways to help you reclaim your life.
Contact Information & Business Hours
Meet The Team
Thank you for choosing Adams Medical Group Behavioral Health. We employ some of the best counselors and therapists in our service area. We will do our best to match you with a counselor whose expertise is tailored to your specific needs.
The treatment team has years of experience working with depression, grief and loss, anxiety, fearfulness, stress, trauma, anger management, substance abuse, attention-deficit disorders (ADD/ADHD), relationship struggles, family disruptions, mood disorders, eating disorders, child and adolescent issues, school difficulties and parenting troubles.
Testimonials
"Leah shows that she cares and has helped me decrease my anxiety."
"I find myself more focused on life since I began with Chelsi."
"Baldemar is realistic and has helped me with things I did not even know I needed help with. He has helped me with my future."
"After just two months with Carrie, I know I have a purpose and know that what I am going through is not permanent. Carrie gives unbiased advice to me through my situations."
"Coming to therapy with Paige is an outlet for me to get my frustrations out!"
"I have been seeing Sarah for three months, I always leave feeling 10x better!"
"John always allows it to be a safe place to talk. I am less anxious than I used to be 1 year ago when I started seeing him!"
"With Megan, I have been able to learn coping skills with the situations in my life and I am able to go through them with ease."