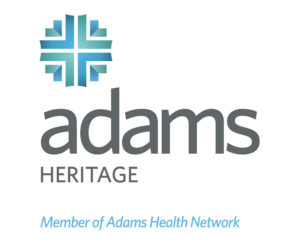 Adams Heritage has been recognized as a 2021 recipient of the Bronze Commitment to Quality Award by the American Health Care Association and National Center for Assisted Living (AHCA/NCAL) for its commitment to improving the lives of residents through quality care. The distinction is the first of three progressive award levels through the AHCA/NCAL National Quality Award Program. The program, presented by the leading association in long term and post-acute care, honors association members across the country who have demonstrated their commitment to improving the care of seniors and people with disabilities.
Natasha Graves, administrator of Adams Heritage Senior Living, credits her staff for the award. "The award was possible due to the outstanding quality of care provided to our residents by our dedicated staff. The teamwork exhibited during the last year was second to none. The staff exemplify the meaning of compassionate care each day for our residents and their families. The care provided by this team is truly inspiring, and it is a great honor to work next to each of them to provide the best home for our residents."
Created by AHCA/NCAL in 1996, the National Quality Award Program is a rigorous three-level process in which trained experts review and judge each applicant against a set of nationally recognized standards for organizational excellence. The standards of the Baldrige Performance Excellence Program help organizations achieve superior performance in improving the quality of life and care of long-term care residents and staff.
Providers begin the quality improvement process at the bronze level, where they develop an organizational profile with essential performance elements such as vision, mission statement and key strengths and challenges. Bronze applicants also must demonstrate their ability to implement a sustainable performance improvement system. Trained examiners review each application to determine if the applicant has met the demands of the criteria. As a recipient of the Bronze – Commitment to Quality Award, Adams Heritage may now move forward in developing approaches to achieving advanced levels of performance that meet the Silver – Achievement in Quality Award criteria.
"I applaud the resiliency of Adams Heritage for taking this important step toward sustainable quality improvement while heroically protecting and caring for residents during one of the most challenging years in recent history," said Tammy Kelly, chair of AHCA/NCAL National Quality Award Board of Overseers. "I encourage Adams Heritage to continue on its path to becoming among the best in the country."
The award will be presented Oct. 10-13, 2021, during AHCA/NCAL's 72nd Convention & Expo in National Harbor, Md.
Adams Heritage is a 61-bed senior living community located in southeastern Allen County in Monroeville, Ind. It offers a peaceful setting that feels more like home but is close to neighboring cities like Fort Wayne and New Haven. Our residents enjoy a friendly, caring environment, enabling our staff and residents to bond like a family unit. We offer both long-term care and short-term rehabilitation, with outstanding PT, OT and speech therapy services, an on-site nurse practitioner and an on-call physician available 24/7. Residents also enjoy quality activities, restaurant-style dining, and beautiful outdoor areas.
ABOUT AHCA/NCAL
The American Health Care Association and National Center for Assisted Living (AHCA/NCAL) represent more than 14,000 non-profit and proprietary skilled nursing centers, assisted living communities, sub-acute centers, and homes for individuals with intellectual and development disabilities. By delivering solutions for quality care, AHCA/NCAL aims to improve the lives of the millions of frail, elderly individuals with disabilities who receive long-term or post-acute care in our member facilities each day. For more information, please visit www.ahcancal.org.